Splash Pads



THE ART OF AQUATIC PLAY
Empex Watertoys® is proud to offer high-quality splash pad equipment for recreation facilities all over the world.
Splash pads are smaller water playgrounds with no standing water, often referred to as zero depth facilities. Different water features attending to different children's age groups provide an architectural presentation of water in a safe water play environment. Splash pads provide interactive and educational water play for children up to 12 years old.
Empex Watertoys® stands proudly at the forefront of the water play industry as a leading splash pad manufacturer. With a rich legacy of creativity, craftsmanship, and a commitment to fun-filled experiences, we are dedicated to providing top-quality splash pad equipment built to stand the test of time. Dive into the excitement and discover why we are the preferred choice for water park equipment by our trusted clientele.
Innovative Splash Pad Toys That Ignite Imagination Innovative Splash Pad Toys That Ignite Imagination
At Empex Watertoys®, we believe in the power of intuitive play and imagination. Our splash pad toys are thoughtfully designed to engage young minds, creating a world of wonder and exploration. From interactive water cannons and spinning sprays to captivating water arches, tipping buckets and water tunnels, our splash pad equipment transforms ordinary water play into a whimsical adventure. Experience the joy of creativity and watch as children's imaginations take flight in the best splash pads and aquatic play areas designed by our experts.
Types of Water Features
Ground Jets
Ground jets coming up from the play surface can be arranged in creative patterns to create visual excitement throughout the aquatic playground.
Static Watertoys
Simple, interactive playground equipment is created by a series of different nozzles that cause different water effects and sensations on the body. Interactivity is through the action and reaction with the water jets.
Kinetic Watertoys
Kinetic water displays are achieved from the direction of nozzles and propulsion of water creating kinetic energy movement which results in an animated water display. The players can turn handwheels or pull knobs to achieve different water displays.
Self-Powered Watertoys
These water park features encourage patrons to interact with your play equipment by pedaling, turning a crank, rocking a toy, or pumping a handle to create a water spray.
Climb and Slide Structures
Aquadeks are water play structures which encourage climbing steps or tubes to get to different water slides. The Aquadeks often have interactive features on the upper decks for added enjoyment.
Automation
Automation can be added to the water playground by including an activation bollard which, when touched, initiates a programmed sequence of the different water features. The display can be varied to create a surprising water display.
At Empex Watertoys®, we take pride in our design and manufacturing, always making sure to create aquatic play areas with safe water play for all patrons. Different splash pad themes can be applied to the water play features to provide variations.
Find out why we're the trusted water park equipment manufacturer of recreation facilities around the world. Check out our collections below to find the perfect fit for your next projects.
Discover the Finest Splash Pad Equipment for Sale
Empex Watertoys® offers an extensive range of premium splash pad equipment for sale. As one of the leading splash pad companies, we specialize in splash pad design and installation for an amazing array of establishments. Whether you are looking to enhance an existing commercial splash pad or design a brand-new aquatic playground, we have you covered. Our collection of water play features includes water sprayers, fountains, ground-level jets, and splash features that cater to all age groups and skill levels. From splash pads for toddlers to splash park equipment for sale for large-scale commercial water play pads, with our top-of-the-line splash park equipment, you can create a dynamic and engaging water play environment that keeps children entertained for hours on end.
Our experienced team will work closely with you to assess your needs, provide accurate cost estimates, and ensure a seamless installation process. Let us take care of the details while you focus on creating unforgettable water play memories.
Searching for the leading splash pad companies? Contact us now!
As one of the best splash pad makers, our water playground equipment can make every splash pad unique as the space it occupies. Our commercial splash pads are built to withstand heavy usage, ensuring years of enjoyment for your patrons. We take pride in being one of the best splash park equipment suppliers, which is why based on your custom demands, we design splash products according to your vision and theme.
Whether you want splash pads for babies featuring gentle water sprays, low splash heights and interactive elements for sensory development or you are looking for affordable splash pad installation cost for your water playground equipment, we can do it all without compromising on quality.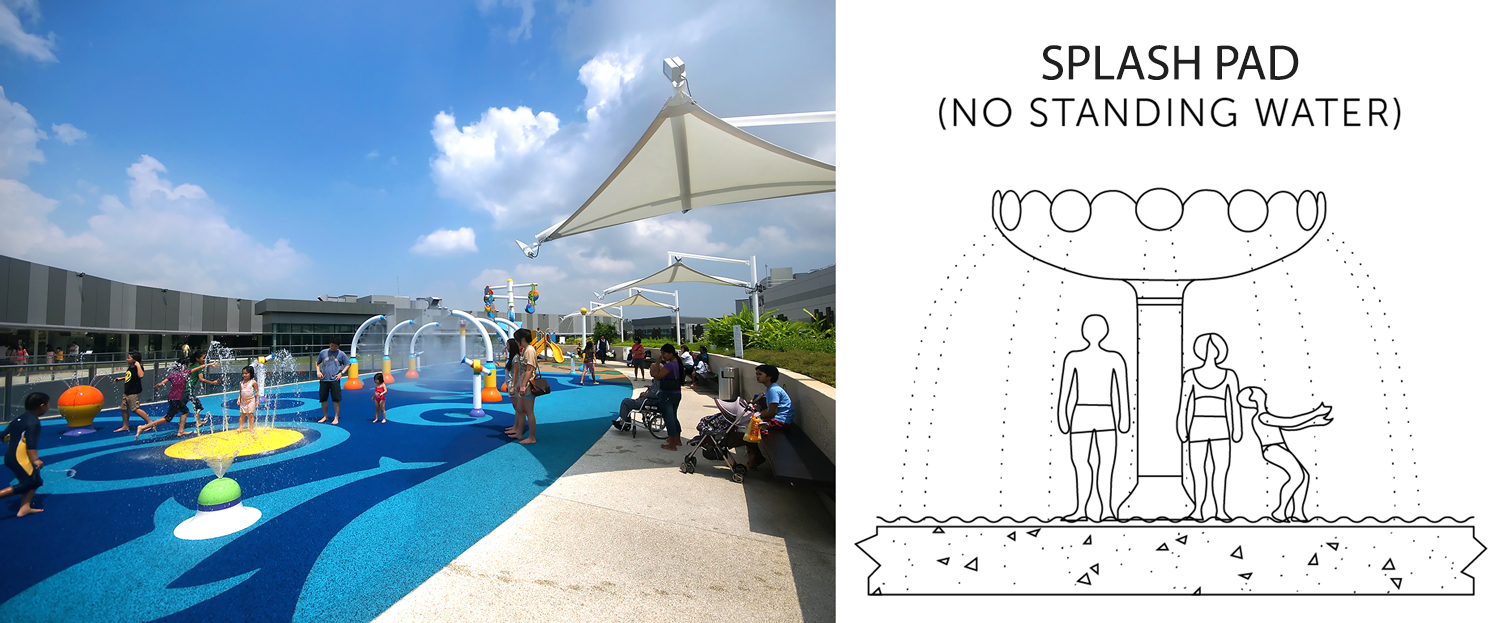 Browse our collection of interactive aquatic playground products